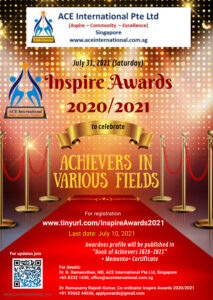 Due to the severity of Lockdown situation affected our normal life and many people requested to consider and postpone this session next month to enable their comfortable participation. We also face the difficulty in logistics of award materials to prepare and send to the awardees during this lockdown situation. Hence the organizing committee is planning to organize the Inspire Awards 2020-2021 and Book of Achievers 2020-2021 on 30th July 2021 with all your support in a successful manner.  We are extending the last date for submission of application to July 10, 2021. Please share the information with your friends and colleagues.
For award registration: www.tinyurl.com/InspireAwards2021 (New registration only)
For those who already registered and paid fees kindly fill the form: https://docs.google.com/forms/d/e/1FAIpQLSfL6JK4TnK7xSOi4xYMINvCZo6MrLn325j7-mGtIjZymdvVsA/viewform?usp=sf_link
Nomination fees:
Students – Rs. 1000/- (only e-certificate)
Researchers, Working Professionals and Volunteers – Rs. 3000/-
Schools, Colleges, Universities, Institutions, Businesses, Companies, Merchants, Start-ups, SMEs, Enterprises – Rs. 5000/-
If you need any further details in this regard please contact us.
Thanks and best regards
Program Coordinators
Dr. B. Ramanathan & Dr. R. Rajeshkumar
ACE International Pte Ltd, Singapore